Study on the response of common Myna (Acridotheres tristis) towards artificial nests in selected sites of Peshawar city
Keywords:
Artificial nests, common Myna, reproductive success, breeding season
Abstract
The objective of this paper is to analyze the response of common myna to artificial nest boxes placed at different sites in Peshawar city i.e.  University Town, Rahat Abad, Qadir Abad, and Palosi Road Peshawar respectively. Where a large increase in the population of common myna was noticed. The artificial nests were designed with dimensions of 56 x 22 cm and 21 x 16 cm with respective openings of 8 cm and 7 cm. A total of 28 artificial nests were installed in the breeding season of common myna. Therein 18 nest boxes were found attempted by common myna. 45 eggs were found in the attempted nest boxes. Early hatching of eggs was observed at Site-C. The success percentage of the installed nests was about 64.28 %. Competition and disturbances viz kite, crow, and woodpecker were observed. It is impossible to get a complete picture of the reproductive success of common myna in artificial nests in urban and suburban areas. However, nest box replacement may be one of the solutions to enhance the population of birds in spite of all disturbances.
References
Ali, S., Ripley, S. D., & Delhi, N. (1983). Handbook of Birds of India and Pakistan. 67–68.
Jokimaki, J., & Huhta, E. (2000). Artificial nest predation and abundance of birds along an urban gradient. Condor, 102(4), 838–847. https://doi.org/10.1093/condor/102.4.838
Major, R. E. (1991). Identification of nest predators by photography, dummy eggs, and adhesive tape. Auk, 108, 190–195.
Martin, T. E. (1987). Artificial Nest Experiments: Effects of Nest Appearance and Type of Predator. The Condor, 89(4), 925. https://doi.org/10.2307/1368547
Niemelä, J. (1999). Ecology and urban planning. Biodiversity and Conservation, 8(1), 119–131. https://doi.org/10.1023/A:1008817325994
Peacock, D. S., Van Rensburg, B. J., & Robertson, M. P. (2007). The distribution and spread of the invasive alien common myna, Acridotheres tristis L. (Aves: Sturnidae), in southern Africa. South African Journal of Science, 103(11–12), 465–473.
Wilson, G. R., Brittingham, M. C., & Goodrich, L. J. (1998). How well do artificial nests estimate success of real nests. Condor, 100(2), 357–364. https://doi.org/10.2307/1370277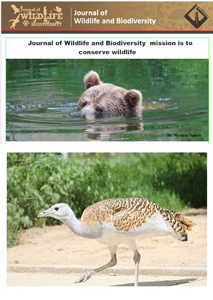 Downloads
How to Cite
Anwar, T. ., Zamir, A. ., Muhammad Umrani, A. ., Barki, A. khan ., Safdar, U. ., Ahmad, S. ., Kamil , S. T. ., Raza, J. ., Ahmed, M. N. ., Zeeshan, M. ., Ahmad, F. ., & Ahmad, O. . (2022). Study on the response of common Myna (Acridotheres tristis) towards artificial nests in selected sites of Peshawar city. Journal of Wildlife and Biodiversity, 6(X). https://doi.org/10.5281/zenodo.7069034
Section
Short communication
License
This work is licensed under a Creative Commons Attribution 4.0 International License.