Distribution of Nilgai antelope (Boselaphus tragocamelus) and its interaction with local communities in the Abohar wildlife sanctuary, Northwestern India
Keywords:
antelope, community, conservation, density, perceptual mapping
Abstract
The information regarding animal distribution and perceptiveness of local communities play an essential role in designing and planning protected areas, and their management policies as well. To this aim, we mapped the distribution of our focal species, Nilgai antelope (Boselaphus tragocamelus) in and around the Abohar wildlife sanctuary from December 2017 to November 2018. Mapping the species density helped in identifying the critical spots regarding animal density. Our data indicated Nilgai density ranging from 0.0654 to 6.946 individuals/km2. The seasonal group size of males and females was observed to be significantly different throughout (p<0.01) the study period. The mean female group size ranged from 3.91 individuals to 6.26 individuals, whereas, in comparison, the average male group size varied less from 4.00 individuals to 4.76 individuals. Concurrently, the attitude of local people towards Nilgai and its related attributes including crop damage, vehicle collisions and conservation was recorded through the semi-structured survey of local individuals (n = 139) working in the farming or allied practices. The results showed that 37% of the respondents considered Nilgai to be responsible for crop depredation, while more than 50% perceived negative Human-Nilgai through vehicle collisions in the sanctuary. Considering the expansive views of the respondents on other related animals and environmental factors, the 3D perceptual maps were prepared to exhibit a holistic sight of their opinion which can help strengthen the management of wild animals in the sanctuary.
References
Aryal A., Lamsal R.P., Ji W., Raubenheimer D. 2016. Are there sufficient prey and protected areas in Nepal to sustain an increasing tiger population?. Ethology Ecology and Evolution 28:117-120.
Bajwa P., Chauhan N.P.S. 2019. Impact of agrarian land use and land cover practices on survival and conservation of nilgai antelope (Boselaphus tragocamelus) in and around the Abohar wildlife sanctuary, Northwestern India. Ecoscience 26(3):279-289.
Bayani A., Tiwade D., Dongre A., Dongre A.P., Phatak R., Watve A. 2016. Assessment of crop damage by protected wild mammalian herbivores on the western boundary of Tadoba Andhari Tiger Reserve (TATR), Central India. PLoS ONE 11(4):e0153854.
Bartonička T., Andrášik R., Duľa M., Sedoník J., Bíl M. 2018. Identification of local factors causing clustering of animal‐vehicle collisions. Journal of Wildlife Management 82:940-947.
Chauhan N.P.S. 1999. Evaluation of crop damage in the eco-development project area to suggest mitigation measures. Project Report: Dehradun, Uttarakhand: Wildlife Institute of India.
Chauhan N.P.S., Sawarkar V.B. 1989. Problems of over abundant populations of nilgai and blackbuck in Haryana and Madhya Pradesh and their management. Indian Forester 115(7):488-93.
Chopra G., Rai D. 2009. Ecological studies on population structure and food habits of Nilgai, Boselaphus tragocamelus Pallas (Artiodactyla, Bovidae) in Saraswati Plantation Wildlife Sanctuary, Haryana (India). Journal of Experimental Zoology 13(1):43-49.
Favilli F., Bíl M., Sedoník J., Andrášik R., Kasal P., Agreiter A., Streifeneder T. 2018. Application of KDE+ software to identify collective risk hotspots of ungulate-vehicle collisions in South Tyrol, Northern Italy. European Journal of Wildlife Research 64:59.
Gonser RA, Jensen RR, Wolf SE. 2009. The spatial ecology of deer–vehicle collisions. Applied Geography 29:527–532.
Green R.E., Cornell S.J., Scharlemann J.P.W., Balmford A. 2005. Farming and the Fate of Wild Nature. Science 307:550-555.
Home C., Bhatnagar Y.V., Vanak A.T. 2018. Canine conundrum: domestic dogs as an invasive species and their impacts on wildlife in India. Animal Conservation 21:275-282.
Hoseti B.B. 2002. Glimpses of biodiversity. Delhi: Daya Publishing House.
Hundal S.S. 2004. Wildlife conservation strategies and management in India: an overview. In Proceedings of the Species at Risk 2004 Pathways to Recovery Conference, Victoria Conference Centre, B.C., Canada, 2-6 March 2004.
Jagga R. 2018. Two more black bucks die in Abohar sanctuary. Indian Express. https://indianexpress.com/article/cities/chandigarh/two-more-black-bucks-die-in-abohar-sanctuary/. Downloaded on 6 July 2019.
Karanth K.K., Gopalaswamy A.M., DeFries R., Ballal N. 2012. Assessing patterns of human-wildlife conflicts and compensation around a central Indian protected area. PLOS ONE 7(12):e50433.
Kumar A., Khanna V. 2006. Globally threatened Indian fauna - Status, issues and prospects. Kolkata, West Bengal: Zoological Survey of India.
Lashley M.A., Chitwood M.C., Harper C.A., Moorman C.E., DePerno C.S. 2014. Collection, handling and analysis of forages for concentrate selectors. Wildlife Biology in Practice 10:6-15.
Lenth B., Knight R., Brennan M.E. 2008. The effects of dogs on wildlife communities. Natural Areas Journal 28:218–227.
Pathak N. 2009. Community Conserved Areas in India – A Directory. Pune, Maharashtra: Kalpavriksh.
Rana Y. 2011. Black bucks thrive in Abohar sanctuary. Times of India. https://timesofindia.indiatimes.com/india/Black-bucks-thrive-in-Abohar-sanctuary/articleshow/7624453.cms. Downloaded on 13 July 2019.
Silva-Rodriguez E.A., Sieving K.E. 2012. Domestic dogs shape the landscape-scale distribution of a threatened forest ungulate. Biological Conservation 150:103-110.
Singh R. 1995. Some studies on the ecology and behaviour of Nilgai (Boselaphus tragocamelus Pallas) with an Assessment of Damage to Agricultural Crops and Development of Strategy for Damage Control in South-Western Haryana. PhD Thesis: Centre of wildlife and ornithology, Aligarh Muslim University, U.P. India.
Weladji R.B., Tchamba M.N. 2003. Conflict between people and protected areas within the Bénoué Wildlife Conservation Area, North Cameroon. Oryx 37:72-79.
Young J.K., Olson K.A., Reading R.P., Amgalanbaatar S., Berger J. 2011. Is wildlife going to the dogs? Impacts of feral and free-roaming dogs on wildlife populations. Bioscience 61:125–132.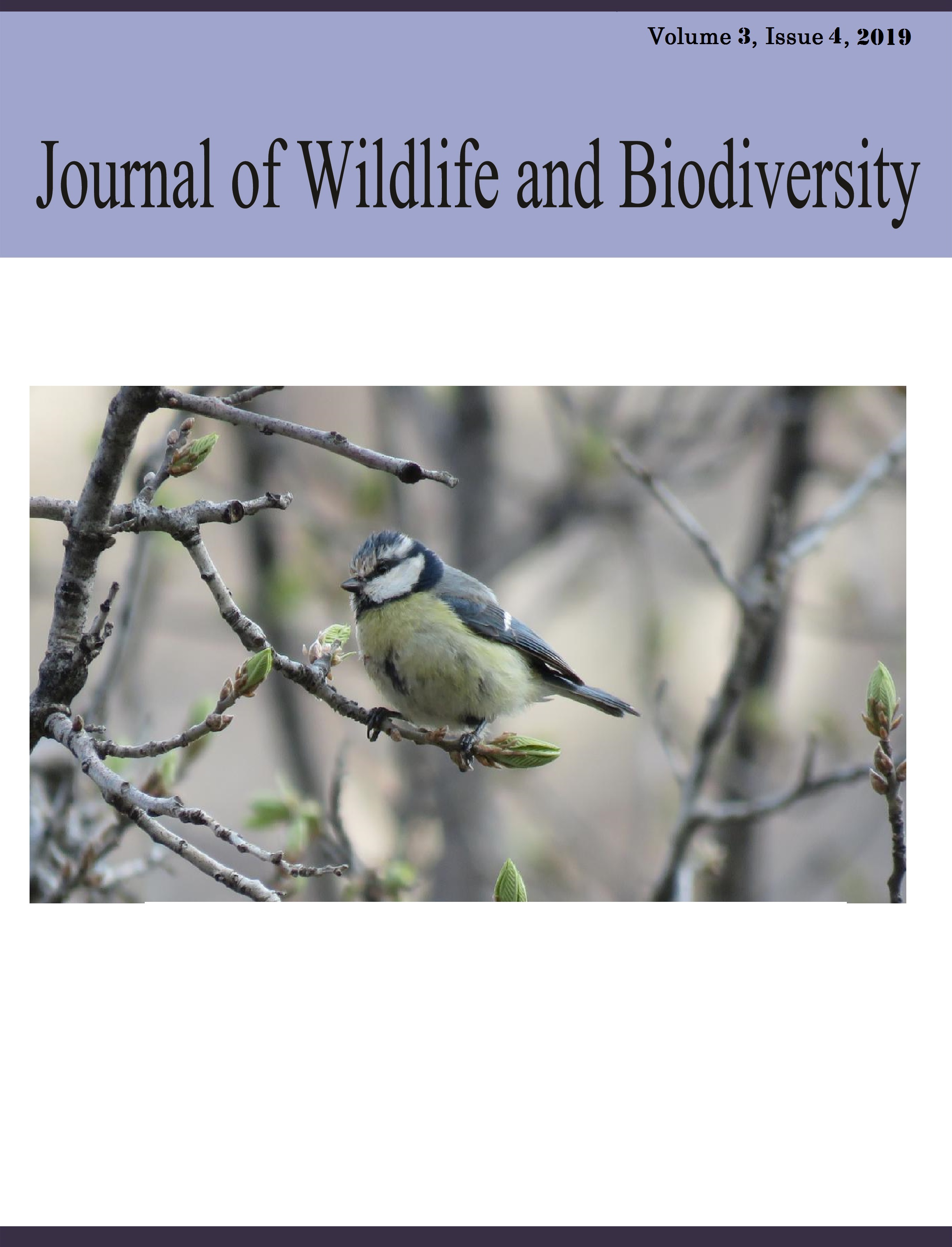 Downloads
How to Cite
Bajwa, P. ., & Chauhan , N. S. . (2019). Distribution of Nilgai antelope (Boselaphus tragocamelus) and its interaction with local communities in the Abohar wildlife sanctuary, Northwestern India. Journal of Wildlife and Biodiversity, 3(4), 27–35. https://doi.org/10.22120/jwb.2019.111565.1076
License
This work is licensed under a Creative Commons Attribution 4.0 International License.