Ecology and species composition of Molluscs in upstream of the Kor River System, with two new records for the Fars Province, Iran
Keywords:
Aquatic invertebrates, conchology, stream ecology, Zagros Mountains
Abstract
The scientific literature on molluscans taxonomy in Iran goes back to many years ago; however, in some parts of the country like southern areas, it is completely new. In addition, many of the studies have focused on their potential risk as intermediate hosts for parasites, ignoring their specific taxonomic identification or detailed ecology. In this research, molluscan fauna of Jubkhalle River, southern Iran was investigated in five stations during 2015 and 2016 within a span of 13 km. Four species from gastropods including Physa acuta, Planorbis intermixtus, Radix persica and Galba truncatula as well as a bivalve species Pisidium casertanum were identified. Among them, R. persica and P. casertanum were new records for the Fars Province. Our results showed consistencies between the number of species present and their environmental settings including total dissolved solids, electrical conductivity, and the water current velocity. Mean annual current velocity was lowest in station 2, having the highest temporal fluctuation, while total dissolved solids drastically increased in lower reach (stations 4 and 5), with the lowest fluctuations.
References
Abbaspour R., Alizadeh- sabet H.R., Hedayatifard M., Mesgaran-karimi J. 2012. Biological assessment of River Cheshmehkileh Tonekabon (Mazandaran) with use biological indicators, population structure and biomass of large invertebrates macrobenthic. Journal of aquatic animals and Fisheries 2(8): 63-75.
Ahmadi E., Arbabi M. 2004. Identification of freshwater snail's fauna of Babol River in Mazandaran province. Agricultural sciences and natural resources 11(3): 32-41 [In persion].
Ahmadi R., Mohebbi F., Hagigi P., Esmailly L., Salmanzadeh R. 2011. Macro-invertebrates in the Wetlands of the Zarrineh estuary at the south of Urmia Lake (Iran). International Journal of Environmental Research 5(4): 1047-1052.
Annandale N. 1921. The aquatic fauna of Seistan. Records of the Indian Museum 18:235–253.
Annandale N., Prashad B. 1919. The Mollusca Fauna of the Inland Waters of Baluchistan and of Seistan. Records of the Indian Museum 18:18–62.
Annandale N., Rao H.S. 1925. Materials for a revision of the recent Indian Lymnaeidae (Mollusca Pulmonata). Records of the Indian Museum 27:137–189.
APHA. 1998. Standard Methods for the Examination of Water and Wastewter. 20th edition. American Public Health Association, American Water Works Association and Water Environment Federation, USA. 1325 pp.
Banha F., Marques M., Anastácio P.M 2014. Dispersal of two freshwater invasive macroinvertebrates, Procambarus clarkii and Physella acuta, by off‐road vehicles Aquatic conservation marine and Freshwater Ecosystem 24(5): 582-591.
Bespalaya Y., Bolotov I., Aksenova O., Kondakov A., Paltser I., Gofarov M. 2015. Reproduction of Pisidium casertanum (Poli, 1791) in Arctic lake. The Royal open Society 2: 140212.
Biggs H. .E. J. 1936. Collecting Mollusca on the Iranian Plateau. The Nautilus 50:8–13.
Biggs H.E.J. 1937. Mollusca of the Iranian Plateau. Journal of Conchology 20:342–350.
Biggs H.E.J. 1971. Mollusca of the Iranian Plateau-III. Journal of Conchology 27: 211–220.
Burky A., Hornbach D., Way C.M. 1981. Growth of Pisidium casertanum (Poli) in West Central Ohio. The Ohio Journal of Science 81, 41–44.
Chu K.Y., Massoud J., Arfaa F. 1968. Distribution and Ecology of Bulinus truncatus in Khuzestan, Iran. Bulletin of the World Health Organization 39: 607–637.
Climate Data. 2018. Ab o hava: Sepidan. Accessed: 01/05/2018. https://fa.climate-data.org/location/1011134/.
De Kock K.N., Wolmarans C.T, Bornman M. 2003. Distribution and habitats of the snail Lymnaea truncatula, intermediate host of the liver fluke Fasciola hepatica, in South Africa. Journal of the South African Veterinary Association 74(40): 117–122.
Dussart G.B.J. 1979. Life cycles and distribution of the aquatic gastropod molluscs Bithynia tentaculata (L.), Gyraulus albus (Muller), Planorbis planorbis (L.) and Lymnaea peregra (Muller) in relation to water chemistry. Hydrobiologia 67(30): 223–239.
Dybowski W. 1888. Die Gastropoden-Fauna des Kaspischen Meeres. Malakozoologische Blätter NF 10:1–79.
Eliazian M., Tamiji Y., Akbarzadeh M., Hagh-Nazari J. 1979. Snails from the northern parts of Iran (Caspian Sea) Archives of Razi Institute 31: 29–36.
Forcart L. 1935. Die Mollusken der nordpersischen Provinz Masenderan und ihre tiergeographische Bedeutung. Archiv für Naturgeschichte N.F 4 (3): 404–447.
Glöer P., PešicV. 2009. New freshwater gastropod species of the Iran (Gastropoda: Stenothyridae, Bithyniidae, Hydrobiidae) Mollusca 27(1): 33-39.
Glöer P., Pešic V. 2010. The Planorbis species of the Balkans with the description of Planorbis vitojensis n. sp. (Gastropoda: Planorbidae). Journal of Conchology 40(3): 249–257.
Glöer P., Pešic V. 2012. The freshwater snails (Gastropoda) of Iran, with descriptions of two new genera and eight new species. ZooKey 219:11–61.
Haffar M., Ahmadi M.R., Yahvavi M. 2010. Bioassessment of Kor River (Fars Province) in different seasons by use community structure macrobenthic. Journal of aquatic animals & Fisheries 1(2): 21-34.
Hasenbein S.1., Lawler S.P., Geist J., Connon R.E .2016. A long-term assessment of pesticide mixture effects on aquatic invertebrate communities. Environmental Toxicology and Chemistry 35 (1): 218–232.
Issel A.1865. Catalogo dei Molluschi raccolti dalla Missione Italiana in Persia, aggiuntavi la descrizione delle specie nuove o poco note. Memorie della Reale Accademia delle Scienze di Torino, (Ser. II) 23 [1866]: 387–439, 3 tavv. Torino. [Separatum: pp. 1–55, 3 tavv. tamperia Reale, Torino 1865.].
Karami A., Zamanpoore M., Rahimi M. 2015. A preliminary study on macrobenthoses of Behesht-e Gomshodeh River in Fars Province, Iran. Quarterly Journal of Experimental Animal Biology 3(3): 31-41 [In persion].
Karimi G.R., Derakhshanfar M., Paykari H. 2004. Population Density, Trematodal Infection and Ecology of Lymnaea Snails in Shadegan. Archives of Razi Institute 58(1): 125-129.
Kendall S.B. 1953. The life-history of Lymnaea truncatula under laboratory conditions. Journal of Helminthology 27(1-2):17-28.
Kuiper J.G.J., Wolff W.J. 1970. The Mollusca of the estuarine region of the rivers Rhine, Meuse and Scheldt in relation to the hydrography of the area III. The genus Pisidium. Basteria 34 (1-2):1-42.
Mansoorian A. 2000. Some freshwater snails from Northern Iran. Iranian Journal of Public Health 29:7–82.
Mansoorian A. 2001. Freshwater Gastropod of Khuzestan Province, South-West Iran. Iranian International Journal of Science 2 (2): 1–9.
Mansourian A. 2000. Some freshwater Gastropods from Baluchestan and Sistan Province, southeast Iran. Iranian Journal of Veterinary Medicine 55(3): 49-51.
Martens E.N. 1874. Ueber vorderasiatische Conchylien nach den Sammlungen des Prof. Hausknecht. Novitates conchologicae. Supplement V. 63–82.
Martins-Silva M.J., Barros M. 2001. Occurrence and Distribution of Fresh-Water Molluscs in the Riacho Fundo Creek Basin, Brasilia, Brazi. Revista de Biología Tropical 49(3-4): 865-870.
Mas-Coma s., Bargues M.D., Valero M.A. 2005. Fascioliasis and other plant-borne trematode zoonoses. International Journal for Parasitology 35 (11–12): 1255-1278.
Massoud J., Hedayeti-Far M. 1979. Freshwater mollusk fauna of the Khuzestan and Khorram- Bad areas in Southwestern Iran. Malacological Review 12: 96.
Mokhtari S., Zamanpoore M., Karimi A., Mokhtari Z. 2015. Barrasei e fon e halazonha ye abe shirin dar Cheshmeh Sasan, Sharhrestan e Kazeroon. First National conference of Novel Findings in Bioscience and Agriculture. University of Zabol. Zabol. May 21, 2015.
Mowlavi G.R., Mansoorian A.B., Mahmoodi M., Pourshojaei R., Salehi M. 2009. Identification of freshwater snails in cane-sugar fields in the northern part of Khuzestan Province from a public health perspective Journal of School of Public Health and Institute of Public Health Research 7(1): 69-76 [In persion].
Nemati-Varnosfaderany M., Ebrahimi E., Mirghaffary N., Safyanian A. 2010. Biological assessment of the ZayandehRud River, Iran, using benthic macroinvertebrates. Limnologica 40(30): 226–232.
Saba M.S., Nabavi M.B., Rajabzadeh Ghorrami A. 2012. Motaleae ye sakhtar va tanavo e macrobentozha ye rodkhaneh ye Dez dar fosuole paiiz va zemestan. Wetland ecobiology 4 (13): 83-91 [In persion].
Samayee A, Mansooian A.B. 2012. Freshwater snails. Iran. 182 pp.
Seelan A., Albrand J., Oehlmann J., Müller R. 2013. Life stage-specific effects of the fungicide pyrimethanil and temperature on the snail Physella acuta (Draparnaud, 1805) disclose the pitfalls for the aquatic risk assessment under global climate change. Environmental Pollution 174:1-9.
Starmühlner F. 1961. Eine kleine Molluskenausbeute aus Nord- und Ostiran. Sitzungsberichte der österreichischen Akademie der Wissenschaften, mathematisch-naturwissenschaftliche Klasse, Abteilung I, 170:89–99.
Starmühlner F. 1965. Eine weiterer Beitrag zur Wassermolluskenfauna des Iran. Sitzungsberichte der österreichischen Akademie der Wissenschaften, mathematisch-naturwissenschaftliche Klasse, Abteilung I, 174: 171–183.
Starmühlner F., Edlauer A. 1957. Ergebnisse der Österreichischen Iran - Expedition 1949/50 (Mit Berücksichtigung der Ausbeute der Österreichischen Iran Expedition 1956): Beiträge zur Kenntnis der Molluskenfauna des Iran. Sitzungsberichte der österreichischen Akademie der Wissenschaften, mathematisch- naturwissenschaftliche Klasse, Abteilung I, 166 (9/10): 435–494.
Strong E.E., Gargominy O., Ponder W.F., Bouchet P. H. 2008. Global diversity of gastropods (Gastropoda Mollusca) in freshwater. Hydrobiologia 595(1): 14901100–16.
Taybi A.F., Mabrouki Y., Ghamizi M., Berrahou A. 2017. The freshwater malacological composition of Moulouya's watershed and Oriental Morocco. Journal of Materials and Environmental Science 8 (4): 1401-1416.
Vaughn C. 2017. Ecosystem services provided by freshwater mussels. Hydrobiologia 810(1): 15–27.
Williams J.D., Warren M.L., Cummings K.S., Harris J.L., Neves R.J. 1992. Conservation status of the freshwater mussels of the United States and Canada. Fisheries 18:6-22.
Zieritz A., Bogan A.E., Froufe E., Klishko O., Kondo T., Kovitvadhi U., Kovitvadhi S., Lee J.H., Lopes-Lima M., Pfeiffer J.M., Sousa R., Do T.V., Vikhrev I., Zanatta D.T. 2018. Diversity, biogeography and conservation of freshwater mussels (Bivalvia: Unionida) in East and Southeast Asia. Hydrobiologia 810 (1): 29. 44.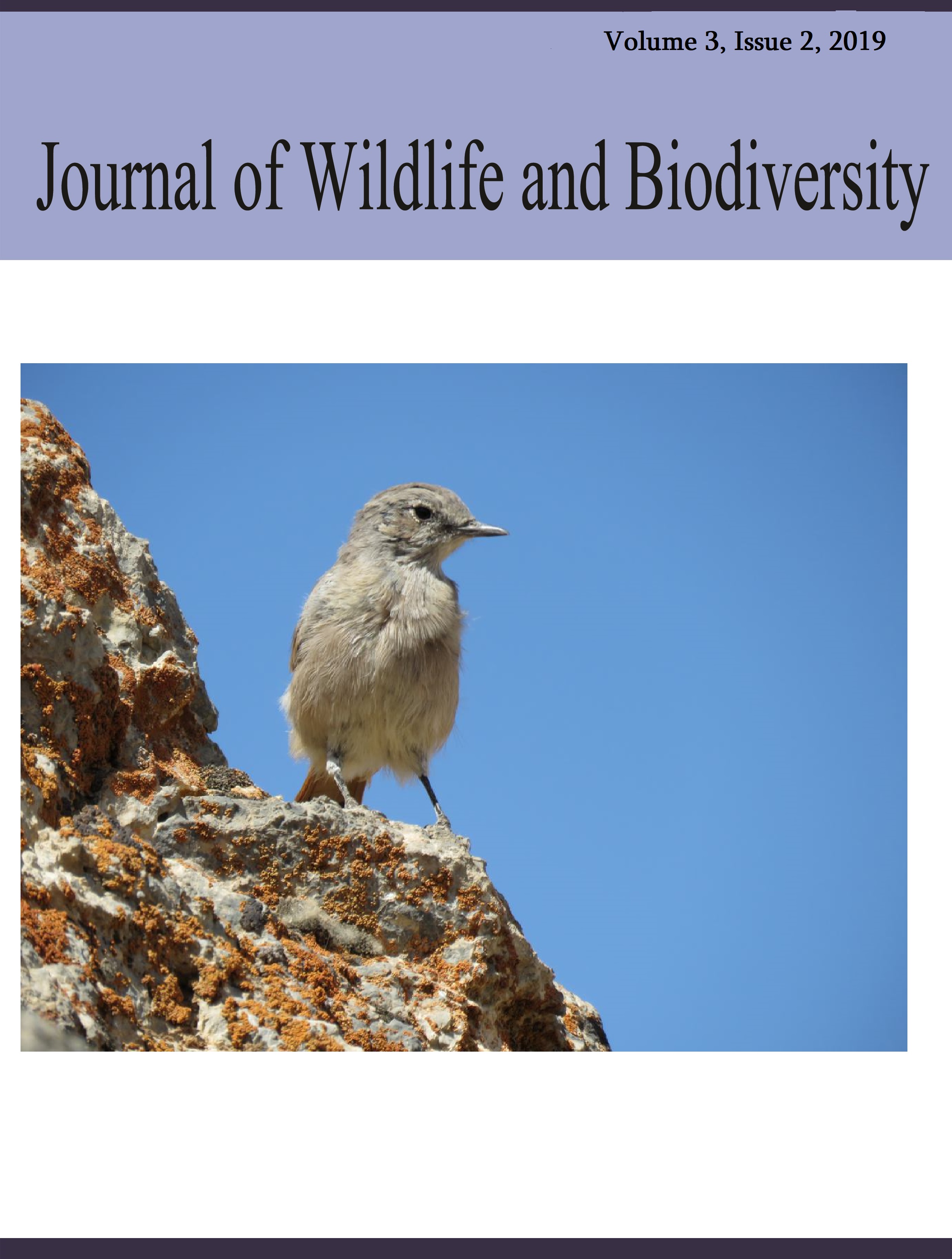 Downloads
How to Cite
Abbaspour, F., Yaripour, S., Gloeer, P., & Zamanpoore, M. (2019). Ecology and species composition of Molluscs in upstream of the Kor River System, with two new records for the Fars Province, Iran. Journal of Wildlife and Biodiversity, 3(2), 29–39. https://doi.org/10.22120/jwb.2019.35004
License
This work is licensed under a Creative Commons Attribution 4.0 International License.