A scientific report on Ephemeroptera of Jajrood River, Northern Iran
Keywords:
Ephemeroptera, Jajrood River, species diversity
Abstract
Mayflies, order Ephemeroptera compose one of the main habitants of all the aqua systems around the world, which has valuable roles in several food chains. In this study, species diversity of Ephemeroptera in Jajrood River (Hajiabad, Saeidabad, and Khojir areas), eastern Tehran Province, was studied through spring-summer, 2016. Samples collected weekly and kept in Ethanol 80% for taxonomic identification. One hundred forty-nine samples belonged to 17 species, under 7 genera in 4 families (Baetidae, Heptageniidae, Habrophlebidae, and Isonychiidae) were collected. The majority of species abundance (45.63%) obtained from Khojir, although Hajiabad with 11 different species showed a more diverse collection for Ephemeroptera. Among the collected species, Heptagenia lateralis, Isonychia shima, Habrophlebia lauta, Labiobaetis atrebalinus, Labiobaetis potamoticus, Labiobaetis glaucus, and Baetis atlanticus were reported for the first time for Iran fauna and Baetis fauscatus andBaetisrhodaniwere the most common species. According to diversity indices, Khojir area along the River showed higher species collection. Knowledge of the species diversity in aqua systems in urban areas like Jajrood River would lead to new insight into ecosystem preservation and better management decisions.
References
Abbaspour R., Hasanzadeh H., Alizadeh Sabet H.R., Hedayatifard M., Mesgaran Karimi J. 2013a. Qualification of water in Cheshmeh Kileh River using macrobenthos populations and physic-chemical factors. Journal of Aquaculture Development7(4): 43-57.
Abbaspour R., Hedayatifard M., Alizadeh Sabet H.R., Hasanzadeh H., Mesgaran Karimi. 2013b. Bioassessment of macrobenthic fauna of the cheshmeh Kileh River, Northern Iran. American-Eurasian Journal of Agriculture and Environmental Science13(6): 747-753.
Al-Zubaidi F., Braasch D., Al-Kayatt A 1987. Mayflies from Iraq (Insecta, Ephemeroptera). Fau­nistische Abhandlungen des Staatlichen Museums für Tierkunde Dresden 14: 179–184.
Amri N., Jamili S. and Abdolbaghian, S. 2014. Diversity of macrobenthos communities and their relationships with environmental factors in Jajrood River, Iran. Resources and Environment 4(2): 95-103.
Aydinli C. 2017. Contribution to the knowledge of Ephemeroptera (Insecta) of the eastern black sea region. Journal of Entomological Research Society19(3): 95-107.
Aydinli C., Ertorun N. 2015. Species records of Ephemeroptera (Insecta) nymphs in the Gediz River basin with a new record for the Turkish fauna: Labiobaetis attrebatinus Eaton, 1870. Turkish Journal of Zoology39: 1-9.
Bojkova J., Sroka P., Soldan T., Imanpour Namin J., Staniczek A.H., Polasek M., Hrivniak L., Abdoli A., Godunko R.J. 2018. Initial commented checklist of Iranian mayflies, with new area records and description of Procloeon capsicum sp. n. (Insecta, Ephemeroptera, Baetidae). ZooKeys749: 87-123.
Dehghani R., Almasi H., Asadi M.A. 2004. The fauna of aquatic insects of Kashan. Feyz 32: 24-29.
Ebrahimi E., Soofiani N.M., Keivany Y. 2014. Macrobenthos of lower Zayandehrud River. Journal of Aquatic Ecology4(3): 83-89.
Ebrahimnezhad M., Nikoo H.A. 2004. Taxonomic identification and distribution of macro-invertebrates of Marbor River, Isfahan Province. Iranian Journal of Biology17(3): 247-260. [in Persian]
Eyidozehi K., Narouyi Y., Mehraban A., Vazirimehr M.R., Rigi K. 2014. Evaluation of aquatic insect fauna such as Heteroptera, Ephemeroptera, Diptera, Trichoptera, Coleoptera, Odonata and so on in east of Golestan Province. Journal of Biodiversity and Environmental Sciences5(1): 508-513.
Farasat H., Sharifi M. 2014. Foor habitat of the endangered yellow-spotted newt Neurergus micropilotus in Kavat stream, western Iran. Zoological Studies53(61):1-9.
Farhangi M., Teymouri Yansari M. 2011. Studying macro-invertebrates of Mohammadabad River (Golestan Province). Journal of Animal Environment4(2): 51-60.
Gattoliat J.L., Kondratieff B., Kaltenbach T. and Al-Dhafer, H.M. 2018. Labiobaetis from the kingdom of Saudi Arabia (Insecta, Ephemeroptera, Baetidae). ZooKeys774: 77-104.
Ghane A. 2013. Macrobenthos community and aquaculture development in Zayandehrud River. Journal of Aquaculture Development7(4): 57-66.
Godunko R., Doldan T., Staniczek A.H. 2017. Baetis cypronyx, a new species of the Baetis alpinus group from Cyprus with annotated checklist of Baetidae in the Mediterranean islands. ZooKeys644: 1-32.
Haybach A., Malzacher P. 2002. Verzeichnis der Eintagsfliegen Deutschlands (Insecta: Ephemeroptera). Entomologishe Zeitschrift112(2): 34-45.
Kamali S.E., Tatina M. 2010. Evaluating bio-index and water quality of upstream and downstream of Lamir River, Talesh countryside, using aquatic insects` populations. Journal of Wetland Ecobiology2(5): 3-12.
Mahboobi Soofiani N., Hatami R., Hemami M.R., Ebrahimi E. 2012. Effects of trout effluent on water quality and the macrobenthos invertebrate community of the Zayandehrud River, Iran. North American Journal of Aquaculture74(2): 132-141.
Mohammadian H. 2005. Aquatic Insects of Iran. First volume. Ephemeroptera. Sepehr Publisher, Tehran, 296 pp.
Poorali Darestani S. 2009. Aquatic invertebrates of Cheshmeh Ali River, Damghan. Journal of Animal Biology1(2): 1-8.
Rahimibashar M.R., Torabi Jafroudi H., Rasta M., Khodadoust A., Taghipour Kouhbaneh S., Delafkar K. 2015. Effects of trout farm effluence on macro-zoobenthos communities in Shemrood River (North of Iran). Journal of Aquaculture Development9(4): 31-42.
Salavatian M., Choliev Z., Aliev A., Abassi K. 2011. Feeding behavior of brown trout Salmotrutt afario during spawning season in four Rivers of Lar National Park, Iran. Caspian Journal of Environmental Science9(2): 223-233.
Salur A., Darilmaz M., Bauernfeind E. 2016. An annotated catalogue of the mayfly fauna of Turkey (Insecta, Ephemeroptera). ZooKeys 620: 67–118.
Shalbaf S., Seraj A.A., Esfandiari M., Ramazani L. 2012. Insect biodiversity in Karkheh wild life refuge, SW Iran. Journal of Entomology 9(3): 178-182.
Sharifinia M. 2015. Macro-invertebrates of the Iranian running waters: a review. Acta Limnologica Brasiliensia 27: 356–369.
Sharifinia, M., Mahmoudifard, A., Imanpour Namin, J., Ramezanpour, Z. and Kong Yap, C. 2016. Pollution evaluation in the Shahrood River: Do physic-chemical and macro-invertebrate-based indices indicate same responses to anthropogenic activities? Chemosphere159: 584-594.
Shayeghi M., Nejati J., Shirani-Bidabadi L., Koosha M., Badakhshan M. Mohammadi Bavani M, Arzamani K, Choubdar N, Bagheri F, Saghafipour A, Veysi A, Karimian F, Akhavan A.A., Vatandoost H.
Assessing the fauna of aquatic insects for possible use for Malaria vector control in Large River, central Iran. Acta Medica Iranica53(9): 523-533.
Soldan T., Godunko R. 2006. Baetis atlanticus n. sp., a new species of the subgenus Rhodobaetis Jacob 2003 from Madeira, Portugal. Genus17(1): 5-17.
Sroka P., Bokjova J., Godunko R.J., Soldan T., Imanpour Namin J., Nejat F., Abdoli A., Staniczek A.H. 2019. New Oligoneuriidae (Insecta: Ephemeroptera) from Iran. ZooKeys872: 101-126.
Tiunova T.M., Kuge N.J., Ishiwata S. 2004. Revision of the east palearctic genus Isonychia (Ephemeroptera: Isonychiidae). The Canadian Entomologist136: 1-41.
Turkmen G., Kazanci N. 2013. The key to the Ephemerptera (Insecta) larvae in running waters of the eastern Black sea basin (Turkey) with the new records. Review of Hydrobiology6(1): 31-55.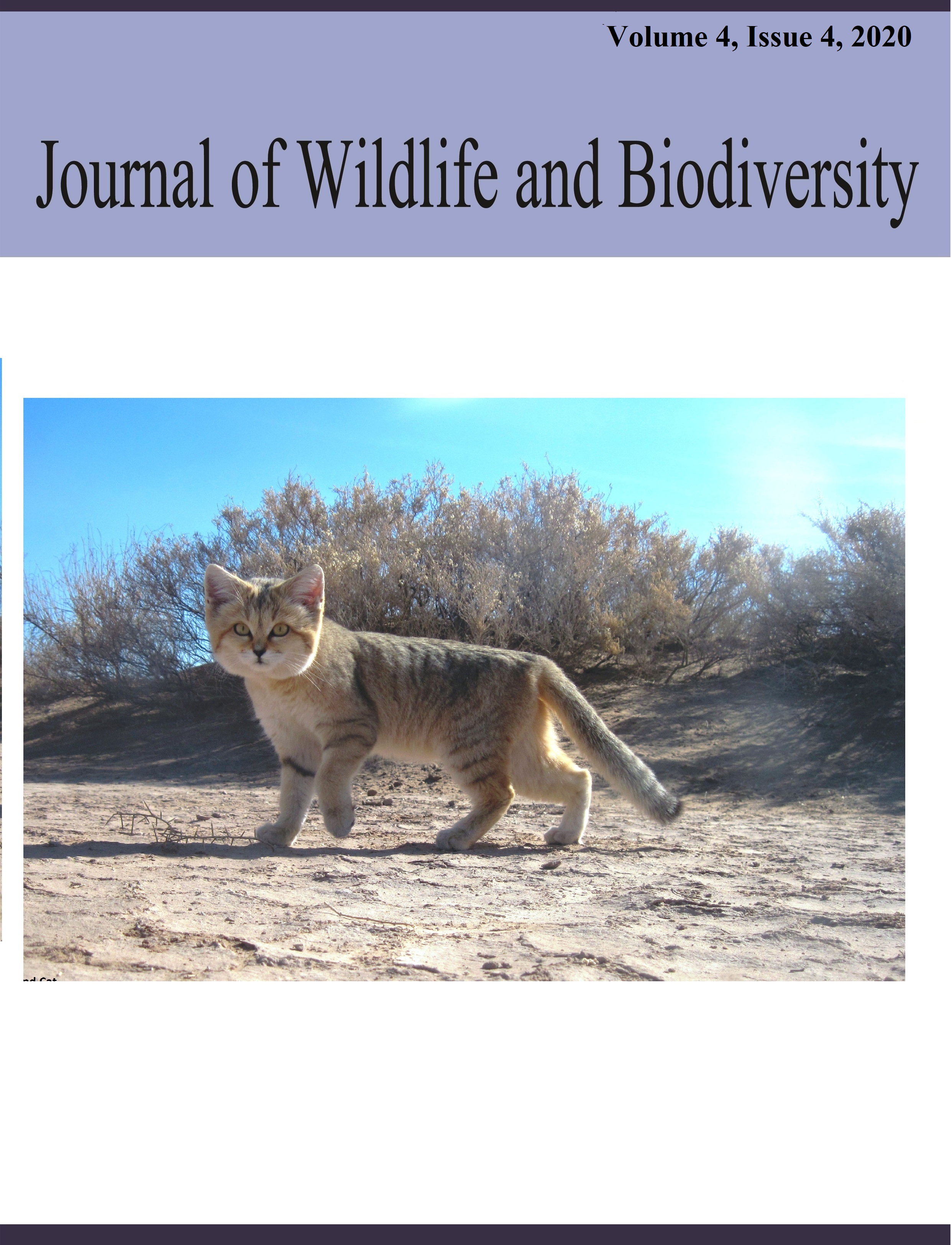 Downloads
How to Cite
Tahmasebi, J. ., Siahkalroudi , siamak Y. ., & Kheradpir, N. . (2020). A scientific report on Ephemeroptera of Jajrood River, Northern Iran. Journal of Wildlife and Biodiversity, 4(4), 1–8. https://doi.org/10.22120/jwb.2020.124737.1130
Section
Scientific Reports
License
This work is licensed under a Creative Commons Attribution 4.0 International License.