Satellite data as indicators of oak forests canopy cover change Case study (Kamfirouze oak forests)
Keywords:
Zagros Oak forests, ASTER satellite data, NDVI index, Plant canopy cover
Abstract
Oak forests of Zagros mountainous ridge, provide important ecosystem services that play a major role in local communities' survival. Nearly all communities in the vicinity of these valuable forested areas are dependent on the ecosystem services from different views like water, fuel, and husbandry. Different factors like human activities, miss management, climate change, Oak roller moth population outbreak threat these valuable ecosystems survival and sustaining. To document the effect of these factors on the canopy covers change during recent years, we used ASTER satellite data and NDVI algorithm to document Kamfirouze oak forests canopy cover changes. Our analysis indicates that in spite of an increase in planted lands (29.35%) in recent decades, the total area of these forests decreased by 15.1 percent and bare lands area has been decreased by up to 7.5% as well. Decreasing trend of the forest canopy cover can be related to the land-use change as the most important factor as well as other factors like illegal timber consumption in the area. The overall finding of this project confirms a more than 10 percent decrease in recent years.
References
Abrams, M. (2000) The Advanced Spaceborne Thermal Emission and Reflection Radiometer (ASTER): data products for the high spatial resolution imager on NASA's Terra platform International Journal of Remote Sensing 21(5): 847-859.
Borrelli P, Modugno S, Panagos P, Marchetti M, Schütt B, Montanarella L. 2014. Detection of harvested forest areas in Italy using Landsat imagery. Applied Geography 48: 102-111.
Carreiras J., Pereira J.M.C, Pereira J. 2006. Estimation of tree canopy cover in evergreen oak woodlands using remote sensing, Forest Ecology and Management 223(1–3):45-53.
CCD Secretariat.1997. United Nations Convention to Combat Desertification in Those Countries Experiencing Serious Drought and/or Desertification, Particularly in Africa, Text with Annexes Geneva 71. Vol. 1954.
Ghazanfari, H., M. Namiranian, H. Sobhani, M.R. Mohajer, 2004. Traditional Forest Management and its Application to Encourage Public Participation for Sustainable Forest Management in the Northern Zagros Mountains of Kurdistan Province, Iran. Scandinavian Journal of Forest Research 19: 65-71.
Griffiths P, Kuemmerle T, Baumann M, Radeloff VC, Abrudan IV, Lieskovsky J, Munteanu C, Ostapowicz K, Hostert P. 2014. Forest disturbances, forest recovery, and changes in forest types across the Carpathian ecoregion from 1985 to 2010 based on Landsat image composites. Remote Sensing of Environment 151: 72-8.
IPCC.2013. Summary for Policymakers. In: Climate Change. The Physical Science Basis. Contribution of Working Group I to the Fifth Assessment Report of the Intergovernmental Panel on Climate Change. Cambridge: Cambridge University Press.
Kennedy RE, Cohen WB, Schroeder TA. 2007. Trajectory-based change detection for automated characterization of forest disturbance dynamics. Remote Sensing of Environment 110(3): 370-386.
Masoud, A. A., K, Koike., 2006. Arid land sanitization detected by remotely-sensed land cover changes: A case study in the Siwa region, NW Egypt. Arid Environment, 66:151-167.
Rafieyan, A., 2003. Investigation of the variations of northern forests area between years 1994-2001 using sensor images ETM+. M.Sc. thesis, Tehran University, 126 p.
Rasuly A, Naghdifar R, Rasoli M. 2010. Detecting of Arasbaran forest changes applying image processing procedures and GIS Techniques. Procedia Environmental Sciences 2: 454-464.
Sadeghi, A., 2005. Investigation of the area and density variations of Mangro in Oman Sea basin (Jask and Ciric region). M.Sc. thesis, Islamic Azad University, Sciences and Researches branch, 89 p.
Soares C., Príncipe A., Köbel M., Nunes A., Branquinho C., Pinho P. 2018. Tracking tree canopy cover changes in space and time in High Nature Value Farmland to prioritize reforestation efforts. International Journal of Remote Sensing 39(14): 4714-4726.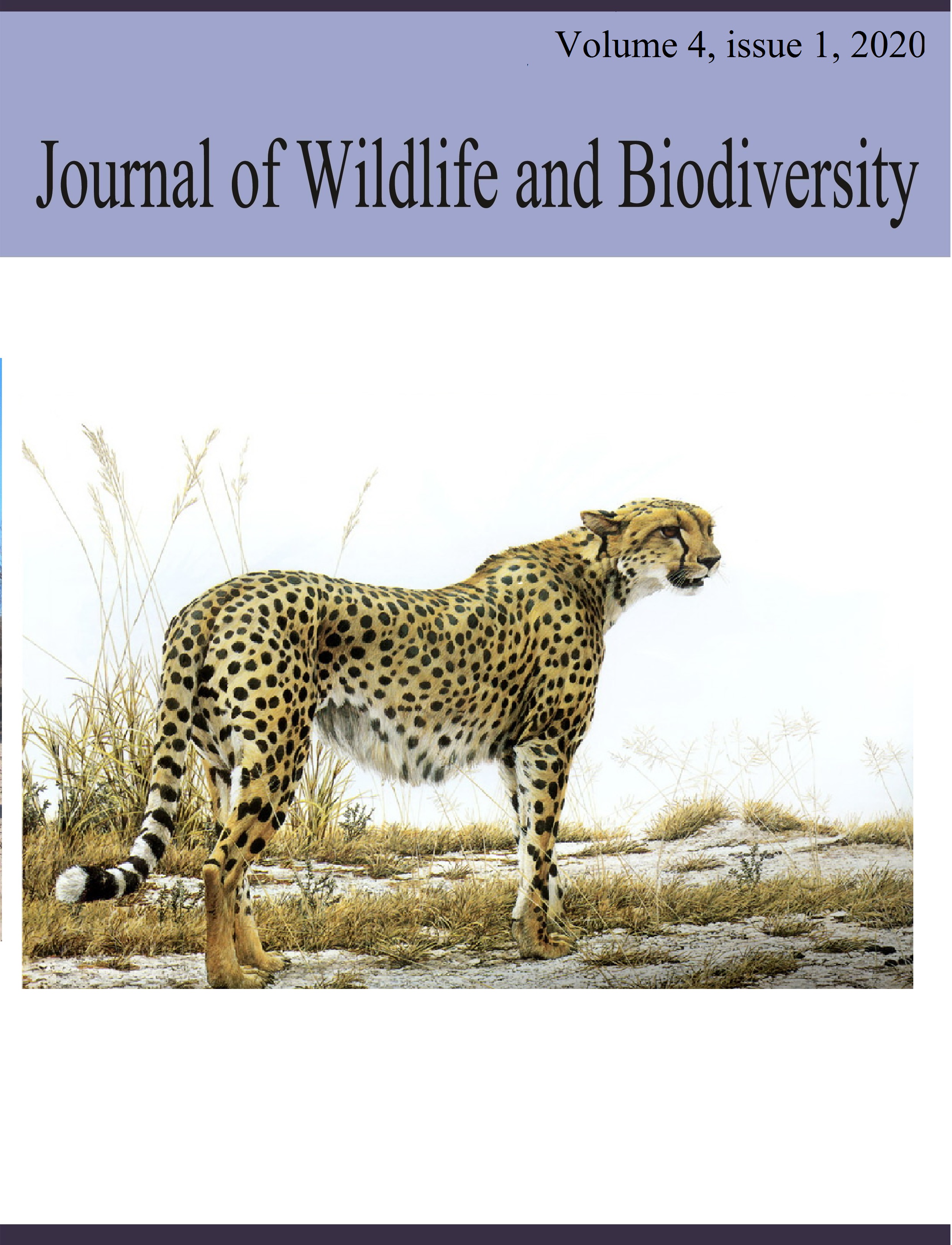 Downloads
How to Cite
khabazi, M. (2020). Satellite data as indicators of oak forests canopy cover change Case study (Kamfirouze oak forests). Journal of Wildlife and Biodiversity, 4(1), 66–72. https://doi.org/10.22120/jwb.2019.119131.1106
License
This work is licensed under a Creative Commons Attribution 4.0 International License.